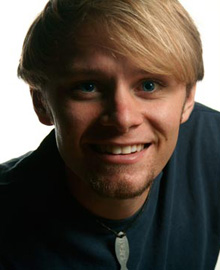 Born in Southern California and grown in Northern Nevada, I would like to think I was influenced by a little of both. I graduated from the prestigious Cal Poly, San Luis Obispo where I spent time honing in on my design skills and having a blast in paradise. That experience has influenced me to continually improve my eye for design and my technical capabilities. For example, visit my site regularly to see what new projects I'm working or interesting design experiments I'm making on my blog.
I am a firm believer that I can only measure my success from the success of my clients. To truly provide these clients with this success is by giving them what they want, use my experience to make it better, and supply quality work throughout the entire design process. This technique makes it fun for me and leaves the client going home happy. My mission is the same as Burger King's: I make it your way.
During the little non-design free time I allow myself, I love being with the girl of my dreams, trying to serve people altruistically, reading literature (Kurt Vonnegut rules), dreaming about super heroes, and hiking.
Colophon